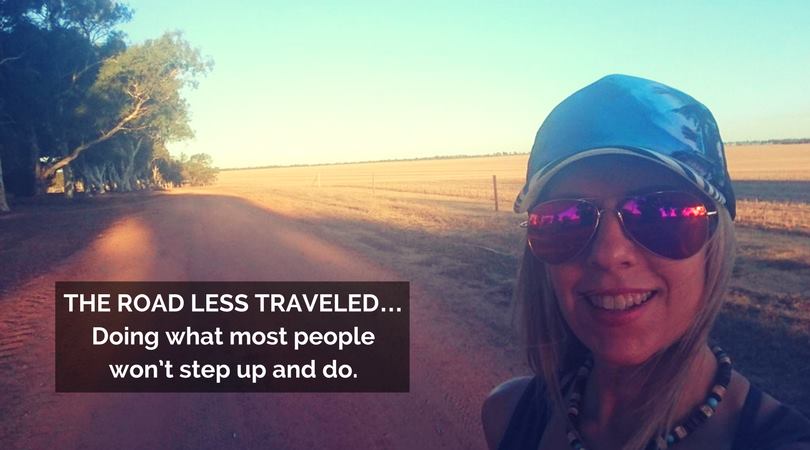 BIG EPIC SOUL ALIGNED INTENTIONAL ACTION – The Road Less Traveled… And doing what most people won't step up and do.🔥✊✨😍
TRUTH:
If you want to accelerate your purpose, continue to rise, liberate yourself, grow your impact, abundance… You need to step into doing what most people won't or don't do. And be "OK" with being YOU!
TRUTH:
Most us have been programmed to think that running around doing lots of shit, trying to do what everyone else is bloody doing, even if it feels out of whack, is going to get us closer to where we want to go.
…Getting dragged into that mindset of being a "follower"…
That we're not good enough if we don't replicate others… be like them.
Looking externally for approval.
Being afraid to step into the epicness of the leader you are.
How many people live in absolute fear of living their dream?
How many people want to take action, epic soul aligned action that they know will be life changing for them… but don't.
How many people, possibly including you, are spending your days and evenings doing shit you can't stand doing, taking lots and lots of action, that actually isn't going to bring you closer and isn't in alignment with you, your soul, or your purpose.
Can I ask you this?
How often do you:
– Tap into your soul's purpose energy?…
– Get clarity on that?…
– Trust yourself, your intuition?…
– Allow yourself to be you?…
Be ok with yourself, your whole self?
– Take action, having full faith in yourself and that the universe has your back?
This might seem so simple… yet we've all been through times when we fight against it.
Choosing to follow everyone else.
Looking to the external for answers.
When deep down, you know you have the answers, but you resist going there… for a f—king multitude of reasons.
OBSESSION, OBSESSION, OBSESSION
LIBERATION, LIBERATION, LIBERATION
Being obsessed, with being obsessed with your soul's purpose.
Being obsessed with the impact, the light, love, epicness you want to bring to this world, your brilliant freaking internal gifts you have…
Let go of the judgement of yourself, beautiful.
And bring it!
Being liberated, wanting to feel liberated… If you truly want that. Take it.
I can tell you it's yours for the taking over and over… But if you don't believe it, then ask yourself "why".
Not out of judgement… But out of love.
The obsession, the liberation, the road to taking big epic soul aligned action that most people won't take…
Release whatever judgement you have allowed yourself to be imprisoned by.
Release whatever judgement you feel others are holding over you.
This is your dream, your life, your obsession, your liberation, your love, your purpose, your impact… isn't it?
Then my love… know that SOUL ALIGNED INTENTIONAL ACTION – The Road Less Traveled… And doing what most people won't step up and do…
Is SAFE.
Is exciting.
Is incredible.
Is mind blowing.
Is euphoric.
Brings miracles.
You can tap into this energy at any time you need too.
If you feel in such epic alignment with your soul…
It comes from love, unconditional love…
At one with the universe…
Then you can't give me one reason why you shouldn't allow something so beautiful within you to rise.
Liberation is yours now, beautiful.
Love you 🔥❤😍🙏✨
Mandy xo