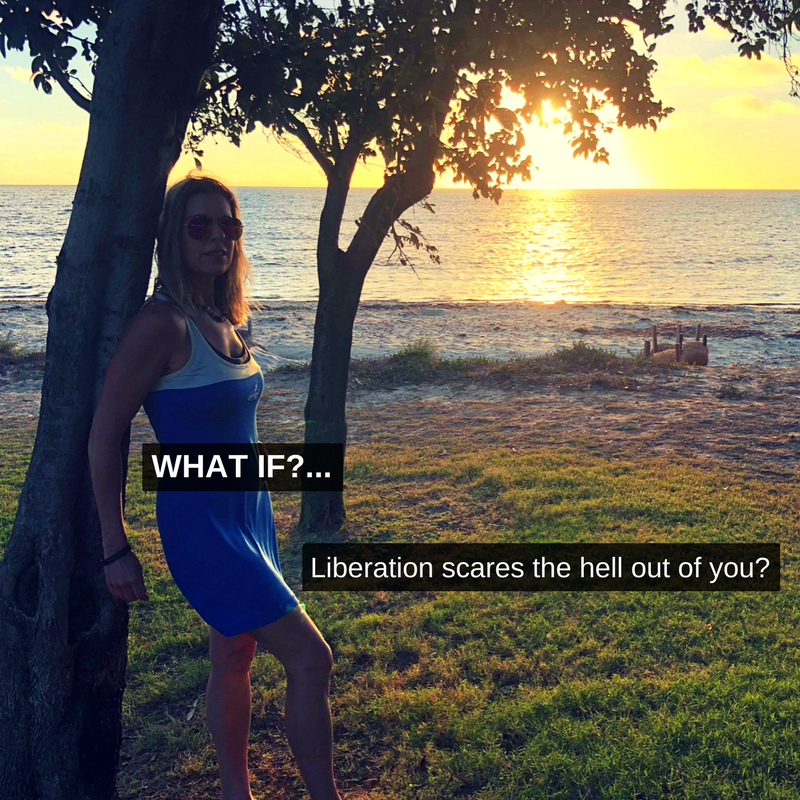 What if… feeling so epic about your life… about your purpose… about your passion… has you riddled with judgement and guilt?
What if… everything you want to step into, when you think of liberation, fires you up, excites, ignites this incredible feeling of exhilaration, your soul's calling…
But you slam the door on it… Stomp all over it…
Those thoughts of …
"NO, I'm not ready"
"I don't deserve this"
"Am I good enough?"
"Will it piss people off?"
"What if I experience liberation, that feeling… and I can't come back from it?"
"Dare I even freaking go there?"
"Dare I even dip my toes in that water, that river of dreams that I so desperately want to bathe in every day of my life?"
Truth is…
You create your own life… how YOU want it to be.
Shit, good, great, epic… the choice is yours.
Yes, you deserve liberation and all the awesomeness that goes with it.
Yes, you are good enough, of course you are.
I think you know that, deep down, beautiful.
Yes, you probably will piss people off… but can they feel what's inside your soul?
Can they feel that deep yearning you have to want to set yourself free from what you've been feeling?
This is your story, your life, your feelings, my love…
Your freaking liberation… No one elses.
Allow yourself to feel safe, so safe, like someones arms wrapped around you…
God, Universe and YOU… have your back.
You may not quite realise this yet… But it's there, that energy… waiting for you.
Tell everyone who stands up to STOP you…
Who steps in front of you and says "you can't do this, you're ruffling feathers"…
Throwing their fears onto you, trying to drag you down with their own sinking ship…
Tell them to get the hell out of your way and sit the f–k down…
… In a way that communicates that you love them, you "get" they're scared, you refuse to carry around their fears…
And… That you're choosing to head in the direction of liberation.
What if… you could transform YOUR fear into excitement?
What if… you could embrace your feelings and turn them into something so POWERFUL, beyond belief.
…To make your obsession with your purpose unshakable.
What if… you saw YOU, your SUPER POWERS, for who you are.
Owned them. Loved on them.
These incredible gifts you've been given…
And allowed them to accelerate your purpose, mission, legacy in this world?
What if, beautiful?…
What if… everything you want was just one decision away…
hmmm…
It is, my love…
Liberation is yours now.
Love you
Mandy xo ✊🔥❤💯