You and I both know when it comes to trying to keep up with social media platforms it kinda does your head in…"Hands up", if you're feeling this xoxo 🙌😀
If you're amongst my tribe of "lead with love soul rockstars" 😘💞🔥✊🙏🌸 … You know the amazing massive value I bring to the table when it comes to my posts, videos, livestreams, facebook group.
I was fed up with spending time logging in and out of different apps, between my phone and the computer.
I wasn't leveraging my time and people weren't getting to experience my awesomeness, my energy, my legacy (as much as I'd love them too) because I simply wasn't getting my content out there enough.
I was thinking there has to be an app, software, something… for goodness sake… that I could just login, have my social media platforms (including my blog) right there in front of me… And could post directly from there, along with scheduling future posts and know that it'll be taken care of automatically…
…Rather than having to manually post via each platform separately several times per day.
I was chatting to a colleague about this, comparing services, trying to figure out which one is best… Lucky for me, I was referred onto CoSchedule.
Before I take you through how I use CoSchedule, here's a quickie overview video from their site explaining how it works… 
For me personally I want to get stuff done quickly…
And if there's 1000's of different steps to make something simple happen, my eyes glaze over… I simply ditch it and find another way to make it happen.
So simplification is vital. And I love services that are visual, so I can see, in a non-nonsense way, exactly what's going on.
I've got some awesomeness taking place, launches etc, behind the scenes at the moment that's "shhhhh" secret squirrel… So CoSchedule have kindly given me permission to use their graphics to give you an example of what the "inside" of CoSchedule looks like.
So let's start off with the Calendar…  yeah baby! I love this!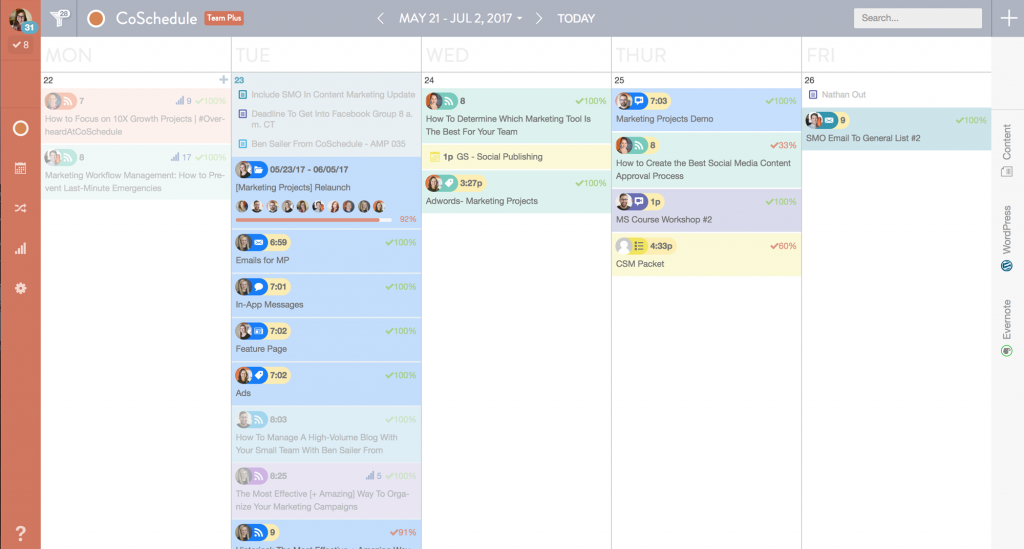 Up until using CoSchedule I was using paper print outs of my marketing "to do" calendar.  Because visually it was easier to view and have everything laid out for me.
CoSchedule makes it super easy to see what's been scheduled for my social media and blog posts, and if you're a creative like me, it's pretty pleasant on the eyes…
Who knew CoSchedule and being organised could be eye candy?! LOL xo … You can label tasks using colours and icons that represent that particular task.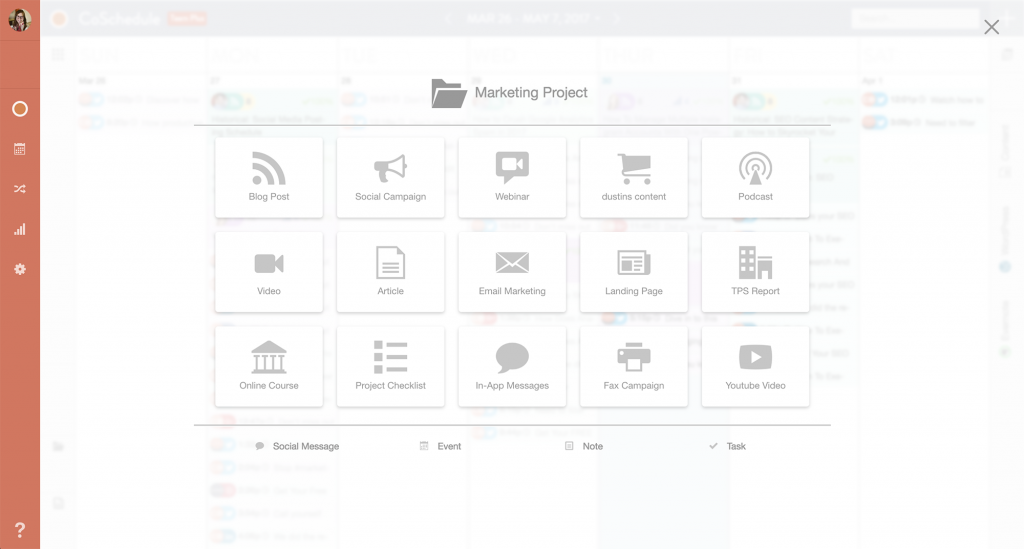 Before I go any further, here's some of the content types you can use in CoSchedule… I'm only using some of them at the moment, but over the coming weeks will be adding more… My marketing plan is huge, so I'm excited knowing that CoSchedule can easily handle this.
The social profiles (Social media platforms) I'm using at the moment are Facebook, Twitter, Pinterest and Instagram.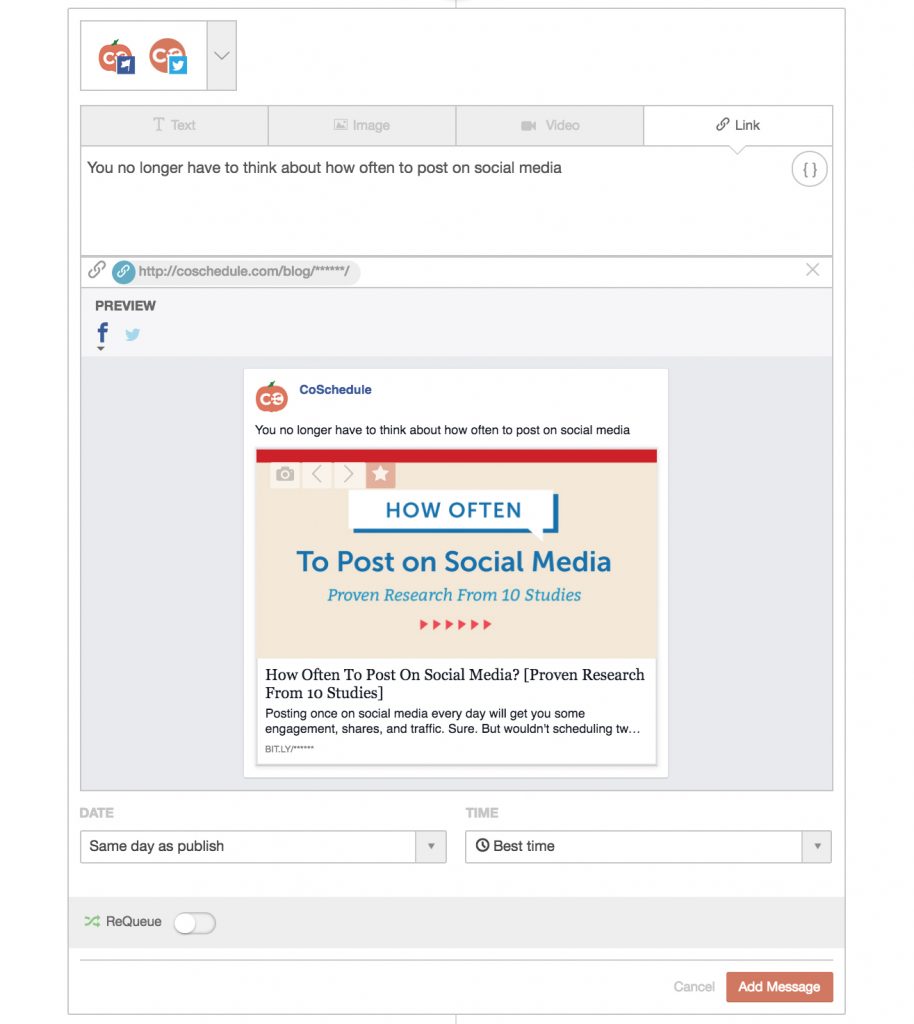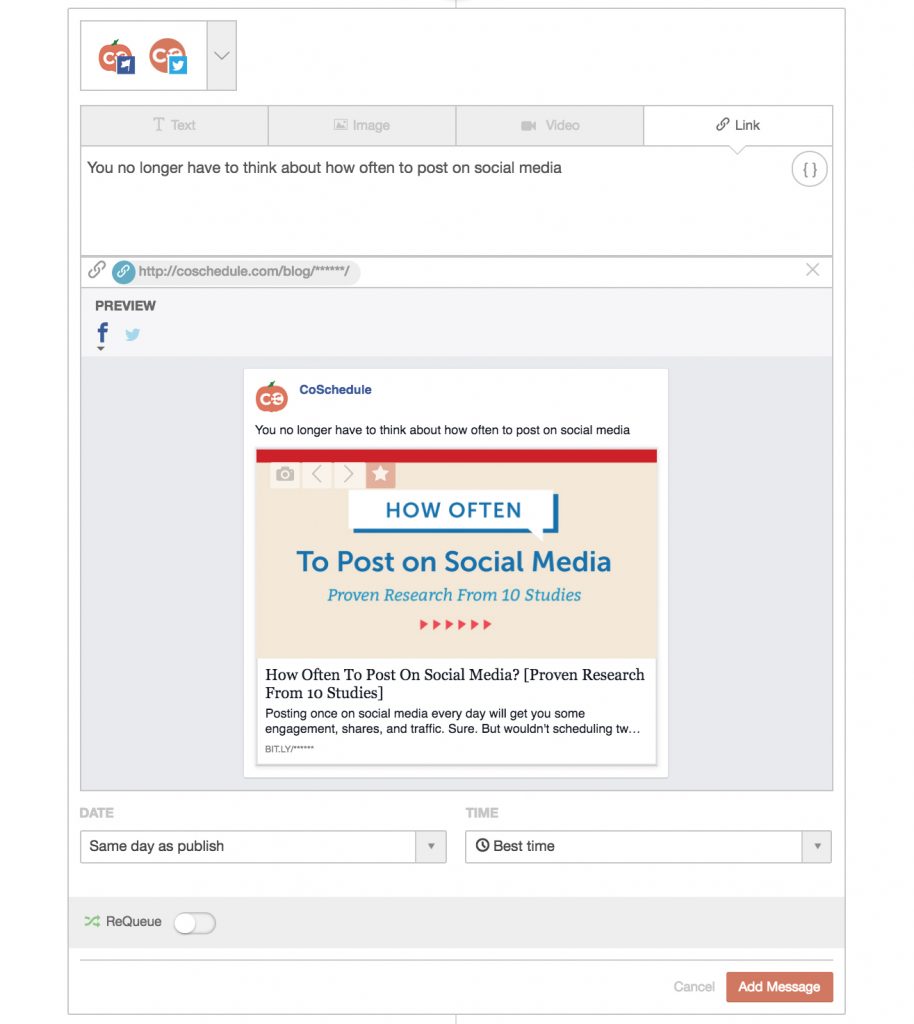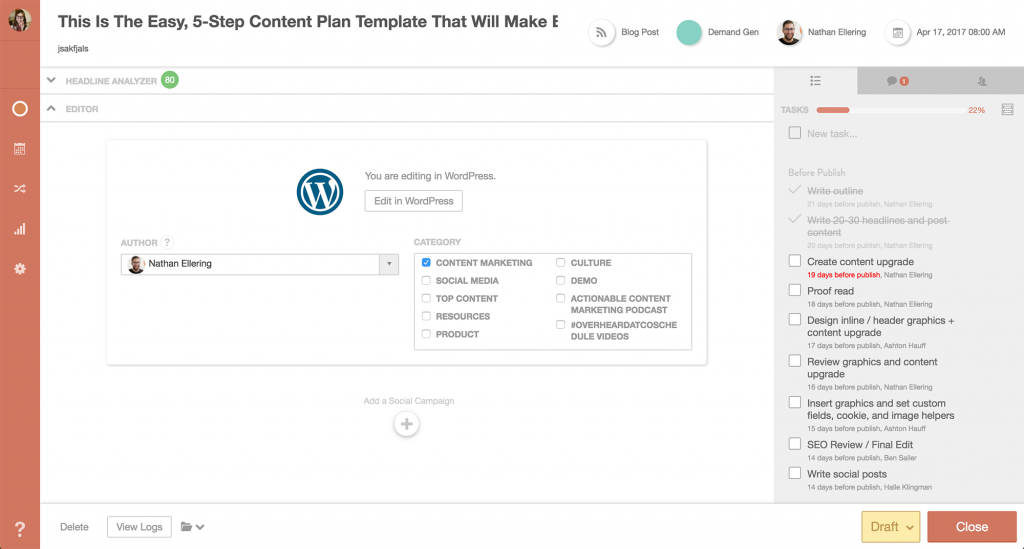 For me personally, I wanted to ramp up the amount of content I was creating and publishing (articles / blog posts, infographics, quotes, videos)…
I also wanted the option of being able to easily drag and drop marketing tasks around on the calendar as I'm adding more content and to easily edit the tasks.
As you can see above… Being able to create and edit your content and posts is pretty straight forward… Along with seeing what it's going to look like when it's published. You also have the option to edit your blog posts directly in your wordpress site if you choose as well.
When you create your campaigns, along with being able to schedule them, you've got he option to reuse them… You can do that directly in the calendar.
One more thing that absolutely rocks… When I first saw this feature I'm was stoked!  That's trying to figure out what the best times are to post for engagement. CoSchedule actually helps you schedule your content for publishing around that. Not kidding! xo
There's so many amazing features, but the final one I wanted to share in this post… 
Is the Headline Analyzer… this helps tell you how effective your headline is going to be in regards to engagement.  So you  can create headlines that convert. This is super cool!
It includes how many characters you're using, the emotional and power words that you're using in your headline… And you can keep track of your headlines as well. Example… You've published content previously via CoSchedule and it kicked butt, rocked engagement with your audience… So you know what works well, what converts and what doesn't.
For me, not only was I looking for something that was going to leverage my own time and maximise my content – but for my clients as well…
For them to have a system in place to help them rock their content.
I'm so grateful that I chose to dig deep into CoSchedule, it really is an amazing feature packed service – that's very specific to bringing your marketing – and being able to organise and leverage it – into one place.
If you'd love to try CoSchedule, take a look around, experiment with the features. So you can see if it's a good fit for you, beautiful xo… then head on over there and check out their 14 day trial…
Massive luv n hugs to you
Mandy xo
"Lead with Love" xo