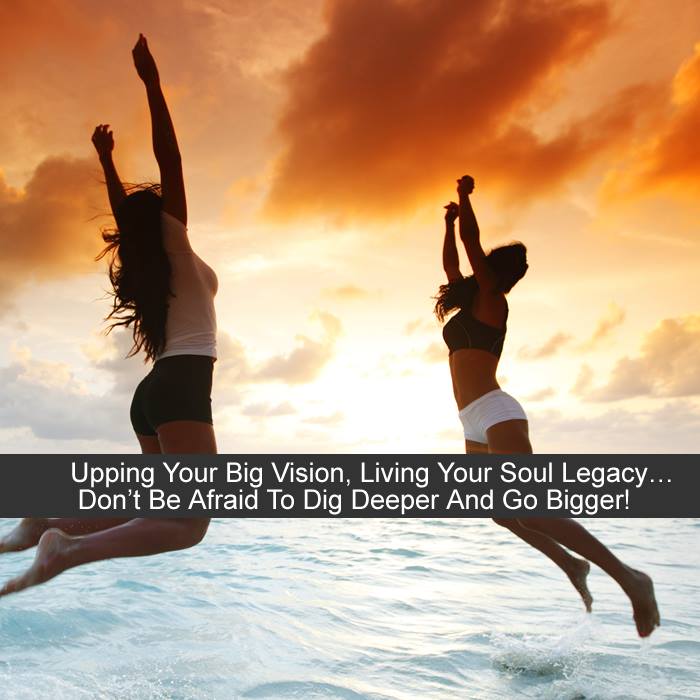 UPPING YOUR BIG VISION, LIVING YOUR SOUL LEGACY… DON'T BE AFRAID TO DIG DEEPER AND GO BIGGER!
✊
The end of a year brings up all kinds of thoughts, feelings, emotions…
For Entrepreneurs with a true passion to allow their legacy, their mission, their vision to come to fruition…
It sends us into over-drive…
This year has been huge for myself, for my clients, for my colleagues… With so many amazing, life changing transformations, … and accelerating successes taking place in our lives…
I've continued to "up" my big vision over and over and over.
Because I could feel my energy changing, soaring…
I could feel that I wanted more, I could feel that I was stepping up more than ever before…
As Entrepreneurs, when it comes to success and bringing about what we truly want in our lives and businesses…
We need to continue to be prepared to knock down walls and blocks that we consider putting in front of us…
The awesome part is with practice, you can nip them in the bud before they spiral.
You can dig deeper and deeper and experience breakthroughs faster.
Which means moving forward at an accelerated rate… Exciting and exhilarating.
Don't be afraid of feeling like you need to go bigger…
Don't be afraid of feeling like you may have surpassed what you thought was your previous vision or goals.
It's an exciting opportunity, a beautiful thing, to be able to open yourself up to creating a bigger vision for your legacy and mission…
Creating a bigger impact and taking intentional action on that every day.
And I don't mean just sitting journaling each day. I'm talking doing the things that scare you.
If you know your fastest path to somewhere is to take specific action, do it!
If it's approaching someone who you look up too, your dream come true, to be on their podcast, do it…
If it's doing a livestream, and you've been terrified of doing video… but know it's something you need to do.
If it's running a mind blowing event that you know you so deeply want to do , from the bottom of your heart and soul… Then make it happen.
It doesn't have to be perfect.
Make it about being in alignment with you and your legacy… And the amazing freaking outcomes you want to bring to your clients who attend.
Your big vision and legacy is something so deep, so heart felt, "you can't live without it", have to do it…
It's so huge, that fire within you, that passion to transform, ignite and inspire people that you can hardly even put it into words…
It knocks you for a six… Takes your breathe away
It bowls you over with it's immensity…
Don't be afraid of this…
Allow it to create something so much bigger than you, that you know that when you leave this earth, you did everything you could to be the change that you wanted to create in your own life and those around you who you care about so deeply… Your family, clients, community, your audience…
You are here for a reason…
Let that be enough for you to realise that you, my beautiful friend and soul rockstar, are here to rock this world beyond belief.
Love you!
😘
💖
🌸
🌟
✊
🎉
💝
Massive hugs
Mandy xoxo