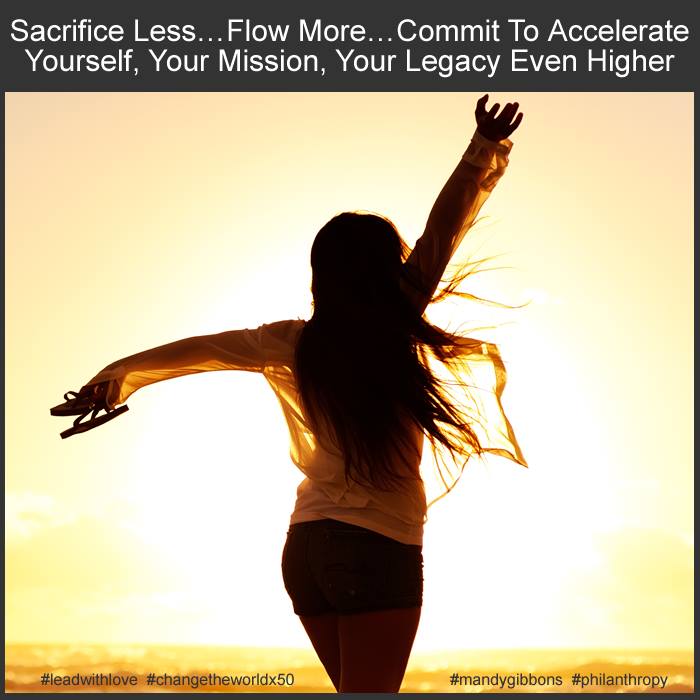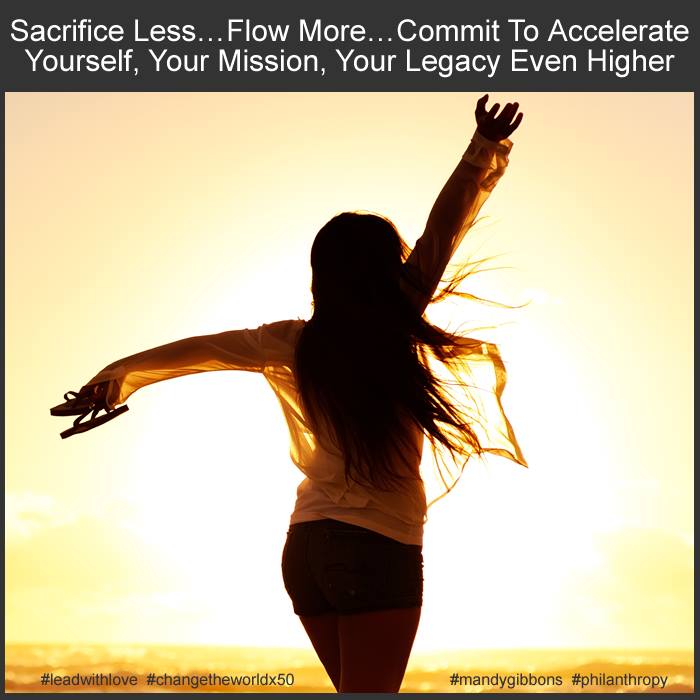 Sacrifice Less…. Flow More… Commit to Accelerate Yourself, Your Mission, Your Legacy Even Higher.
My thoughts, heart, soul is buzzing with something so deep that I have to speak, and just let whatever comes out to flow…

I've made a COMMITMENT to ACCELERATE MYSELF, MY LEGACY, MY MISSION EVEN HIGHER this year.
…And to HELP YOU do the same, despite your challenges.
As you know… this year has been a BLOCKBUSTER year for me, both personally and in my business.
And it's all to do with being in alignment. But not in the WAY you think…
The word "ALIGNMENT" gets thrown around willy nilly these days…
And it's kind of lost it's magic a little for so many people.
I've bull dozed through blocks, crawled my out of my FEARS AND TEARS because "enough was enough"…
I decided even though I was proud of myself for what I had achieved and the amazing outcomes I'd bought to others that I adored…
I wanted to bring forth MORE!
More of me.
To get to the absolute core, more than ever before…
Even if it sucked for a bit to get there…
I made a choice that I wanted to bring the best of me 200+%.
Here's the thing, when you do this, and step up like this, you want to keep doing it…
As you do this, you find that you can bring more and continue to bring more, whether it's in small increments or large, it opens you up to so many opportunities.
Things that felt like they required some struggle before, come with more ease…
Things that scare you, you jump towards them, despite the fear…
…Because you know your legacy, your mission, your big vision, your impact…
The transformation that you want to bring to those around you… is way too freakin important.
It's a mix of exhilaration, peace, passion, purpose and faith…
You just "know"…
You just "know what you need to do.
You "feel" that draw towards that legacy that you're growing, creating, bringing about.
Doing anything less than that "feels" yuck.
WHEN YOU'RE SITTING THERE IN THE DEPTHS OF THE DEPTHS of what you want to bring to others… overcome with emotion…
I allow this to empower me.
I want this to EMPOWER you too.
Because I have no doubts in my mind about my purpose on this earth.
… AND IN YOURS!
I feel your struggle, because I've been there.
I see so many entrepreneurs spending so much time in "panic mode".
I see so many entrepreneurs spending so much time trying to figure out the strategy, the secret, magic bull shit bullet.
I see so many entrepreneurs never following through on stuff…
…Creating a freakin mess… Then BEING SCARED that they're not bringing in more money.
I see so many entrepreneurs spending $4000 – $15000+ per year, without even realising it, on courses and programs that they never complete or implement… That next big thing…
When they could've EASILY spent that on a COACH or VIP INTENSIVE that they felt was so true to who they are…
What they needed to help them SUCCEED… To MOVE FORWARD QUICKLY with their INCOME, MINDSET, IMPACT, ENERGY.
Yet straight out chose to sabotage it with throwing their money on something else that took them so far off track they fell, cornered themselves with their own negative self talk and fears… and considered giving up.
I see so many entrepreneurs spending time, money and energy… not believing in themselves…
…Comparing themselves to others, trying to be like others… Rather than rocking themselves and who they are.
And YES… I see many terrified entrepreneurs trying to drum up any quickie idea to come up with quick cash…
…That they have no true interest in – because they feel like IT'S WHAT THEY SHOULD DO – not what they'd love to do.
…They don't like it, they don't care about it, they don't have faith in themselves for the outcomes for their clients… They just want some fast cash because they're living in feast or famine mode.
Don't spend another year, looking at everyone else wishing you could have that impact, that income, wondering why others are moving forward, and you feel stuck.
…Feeling like maybe you don't "have it"… And sabotaging yourself and your legacy.
I WANT YOU TO THINK ABOUT THIS…
CLOSE YOUR EYES, JUST FOR A MOMENT…
What lights that fire in your belly?
What takes your breath away about what you do, how you do it, why you do it?
What keeps you up at night because of this "heart soul filled pull" to creating something way bigger than yourself that you know you're put on this earth to do?
What triggers you to make and create change?
What leads you to "lead with love"?
What it is that you know you can't go a day without doing, because it would absolutely devastate you if you were told you couldn't do this (legacy, mission, big vision)…
…That you couldn't bring those beautiful life changing, breakthroughs to your clients and tribe, community, audience.
What world wide tidal wave of soul spirit heart based change do you want to bring about?
Who do you want to give back too?
Why do you want to give back?
Where do you see yourself at the peak of your success for your philanthropy, the outcomes you bring to your clients, your wealth, your big vision, mission and legacy for yourself and others?
I want you to FEEL THAT…
Let that feeling of energy soar through your body, like you're ready to take off from the energy from it…
Now imagine accelerating that…
Imagine YOURSELF on a higher energetic level than you thought was ever possible before now…
Imagine being one of the 50 Entrepreneurs, STAND OUT LEADERS OF LOVE, HEAVILY IMPACTING THE WORLD FOR GOOD…
That ARE GOING TO BRING ABOUT CHANGE..
That is going to cause a TIDAL WAVE OF YOUR LOVE AND SOUL IMPACT to this world via your LEADERSHIP and LEGACY.
A SOUL ROCKSTAR leader…
MIND BLOWINGLY ROCKING YOUR OWN WORLD AND EVERYONE'S YOU come into contact with, WITH YOUR MESSAGE…
Being BOLD, COURAGEOUS, holding yourself POWERFUL…
ALLOWING YOURSELF to create this for yourself.
If you're ready…
💖
💖 Then private message me to hear how you can apply…
I love you to bits
Massive hugs… And don't forget to "lead with love"…
Mandy xo