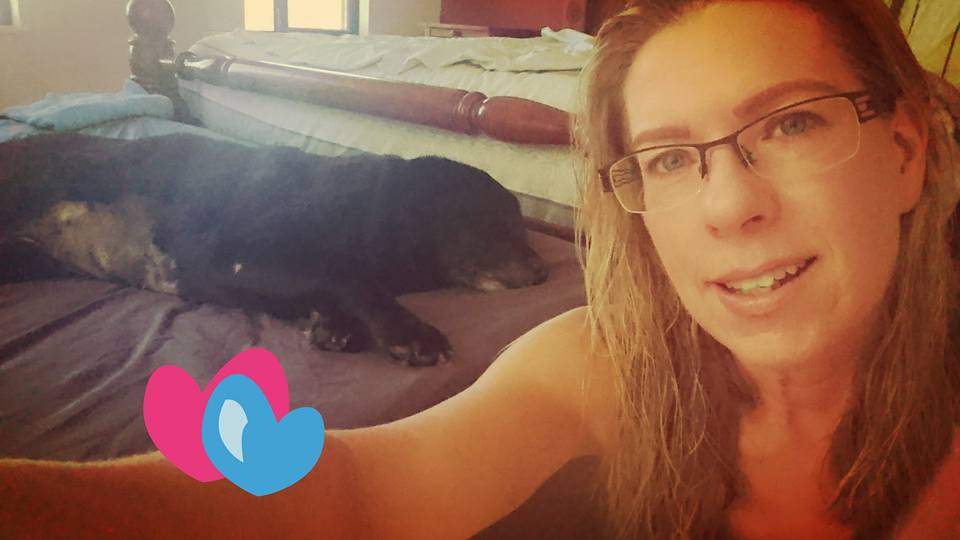 I'm not quite sure where I'm going with this post today… except to say I'm feeling heart broken. I guess it finally hit me today that Louie is crossing the rainbow bridge soon… 😘💔🙏
I can see his eyes changing, as they do, when a furry baby is going through this transition. Honestly, I thought I'd made peace with it, and I have done to a certain extent… But I felt myself for a moment today scream inside myself "noooooooooo!… not Louie too!…I'm not sure if I'm ready, I'm not sure if he's ready"…
Truth is, I know we both are… It's just a matter of days… And filling them with absolute love and gratefulness.
Louie has been our little rock for so long… Beautiful, caring, doting, loving brother to Arnie… And was incredible with Mayson. Mayson and Louie had such an amazing bond.
Louie has been the baby in our family. The puppy that kinda never grew old…He has his own quiet, peaceful, funny, mysterious, angel personality… Extremely loyal dedicated and full of love.
When we first got him, he was such a sick little boy… And we were determined to ensure he had the most amazing life.
Feels like the end of an era… The Arnie, Louie, Mayson era… Those of you who are close to us… understand what I mean by this.
For me liberation is so important… Important for Louie to feel it in his final days and my own life in general.
And I've been celebrating and appreciating Louie's life with him so much lately.
Been celebrating my own liberation of what's to come and the amazing opportunities I've got coming this year and are now stepping into.
I'm not sure how to put it into words…
I knew Louie was going… but I guess I was fantasing about him still being here in physical form… to share this with him. He's been my little soul bubba for so long. I love him to the moon and back.
Another truth…
Once Louie is gone… for me… I know this is the beginning of a new chapter in my liberation.
Having furry babies that are special needs, require dedicated, often, around the clock care… There's been opportunities I haven't taken… I was happy to turn them down… I didn't think twice about it…
Finding someone to look after my bubbas for 1 x day… has been a challenge.. Because the care that goes in is a lot for someone to take on.
These incredible bubbas, that I am so honoured to be their Mummy… Are worth every single ounce of the 15+ years that I have dedicated my life too.
I have no idea what the days ahead hold…
I have faith that everything will be absolutely fine…
That I'm in the safe hands of the universe, God, liberation.
And that Mayson is waiting for Louie… to wrap his angel wings around him…
And that I'll have all my furry babies right with me on the next part of my liberation journey… I'll be with them on theirs.
My Louie boy… I'm soooooooooooooooooooooooo grateful for you…
😘💔🙏✨❤🐾🐾
For everything… the beautiful soul you are and what you bring to this world everyday.
I'm the luckiest Mummy in the world.
So happy I get to spend your final days, giving you all the love in the world.
Love you, Lou xoxoxoxoxo
Mandy xo (Mummy)